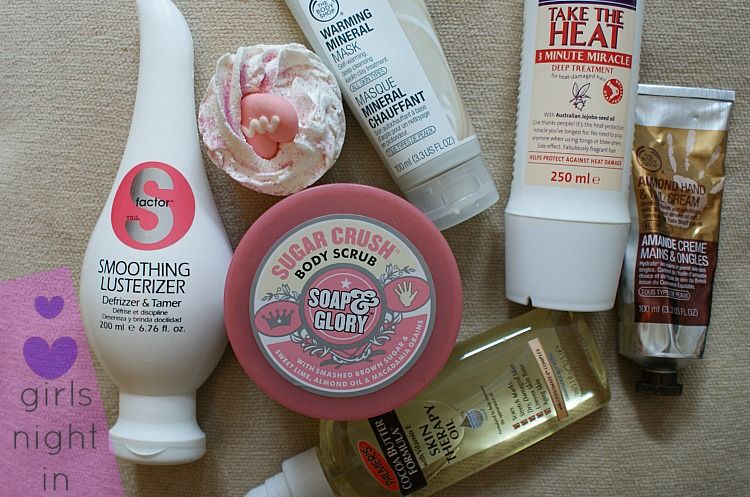 This post was already on my to-do list, so when Ladbrokes Bingo got in touch to tell me about their recent survey, I thought why not combine the two. I'm a sucker for a statistic, and it was interesting to read that 35% of women these days, prefer a night in.
I just hit 25, and although I'm not over the hill just yet (although I did get a 'I didn't realise you were that old' the other day - she was 19, we'll let her off), I'm becoming more and more inclined to have a night in. Granted, that may be because I have beauty products filling every corner of my room, waiting to be tried out, but it was nice to see that nearly 13% of woman agree 25 is the age when things start to calm down. Don't get me wrong, I'm all for a night out once in a while, but a girls night in is high on the priority list these days.
If you're going solo, and are in need of a bit of a pamper, I've pulled together a few of my favourite products. It's pure chance they're all highstreet brands which is a happy coincidence - your purse can thank me later. So what do I deem to be the top picks?
First up, you've got to start with a bath. If you're like me, I can't wash my hair in the tub - it may not be that long, but its thick so before I jump in, I'll give my hair a shampoo in the shower and pop in a hair mask. I just picked up this one from Aussie - Take The Heat as I love all their other masks. For the bath itself, get a bath bomb in there and you can't go wrong. Whilst soaking in the tub, I like to prop my iPad up on the toilet seat (risky business) and watch some YouTube or Netflix, whilst indulging in a clay based mask to get all the impurities out - my favourite is The Body Shop's Warming Mineral Mask which I'm sure you've heard me mention before - it feels really luxurious. Whilst the mask gets to work, I can't get enough of this scrub at the moment, which is the much hyped Soap & Glory Sugar Crush Body Scrub. I use it all over my body and my skin's never felt so soft - fact.
Once you're out the tub, and your hair's rinsed out, I'm loving the Smoothing Lusterizer from Tigi S Factor. It smells amazing (strawberry milkshakes) and has a teeny bit of shimmer in it to give your hair shine. Make sure you apply this to your hair before you do anything else to avoid getting it greasy!
You should be feeling suitably smooth after using your scrub, but I love the Palmer's Skin Therapy Oil* for a bit of overnight nourishment. Not one to be used in the morning, but this is great at bed time. And the final touches - I use the super rich The Body Shop's Almond Hand and Nail Cream on my hands and feet. Pop some socks on and you'll wake up with the softest toes ever. Trust me.
What are you girls night in essentials?