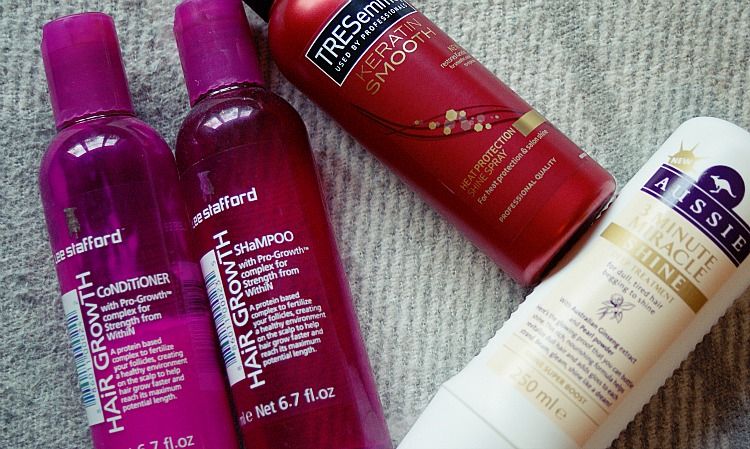 Lee Stafford Hair Growth Shampoo & Conditioner, Tresemme Keratin Smooth Heat Protection Shine Spray, Aussie 3 Minute Miracle Shine Deep Treatment
(all from Boots)
Having become self employed at the end of last year, I'm on a budget. Alright... I've yet to realise that I do really need to stop handing my debit card over or ordering stuff online, but in some aspects, I am trying to be better.
Above are just a few of the bits I've picked up for my hair since around November time. I have an endless supply of products in my shower, but it's always nice to mix it up a bit, eh? Firstly, the Lee Stafford duo. I know, I know. I'm a mug - did I really think shampoo could make my hair grow faster? Of course not, but I'd also be a fool not to try. Afterall, long locks are my current life goal. And did they work? Erm, no. They didn't even feel very nice. I'm trying to use them up but they really aren't a fave of mine. My hair just wasn't wowed by them!
Next up, the new heat defence spray from Tresemme, as part of their Keratin Smooth range. On paper, this range should be right up my street - for dry, dam

a

ged, uncontrollable hair

;

tick. But as I'm trying to behave, I just chose to try one product. I have a Joico heat protection spray, and as it's my new years resolution to use it religiously, I have been doing so. But, the Joico one makes my scalp sting, no word of a lie. I think it's packed full of alcohol which is nothing but drying, so I'm avoiding that one like the plague despite it being pricey. I've moved over to Tresemme and I'm much more pleased! I think it's hard to say if these things work or not but it makes my hair feel soft and nourished so I'll keep on w

ith it for the time being

.
And finally, from the new Aussie Shine range - a 3 minute miracle. I really loved this when I tried it out earlier this week. My hair wasn't noticeabl

y

shinier exactly, but it looked a lot healthier and felt amazing. Both this and the Tresemme spray are brilliant products and a decent price. I'm glad to have discovered them to get me through my poorer months!