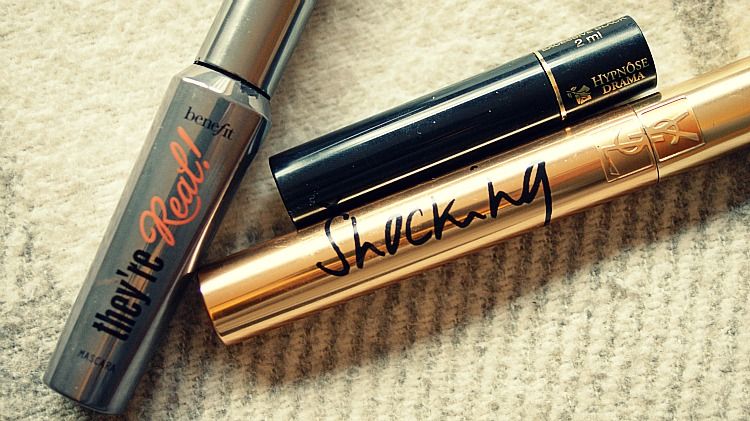 Happy Friday everyone, hope you're all winding down to the weekend well. I say that, but my working 'week' actually starts tomorrow - but I'm looking forward to it!
Todays post is the first in a series of 'Top 3' - starting with mascaras. Unfortunately, I'm not blessed with luscious lashes. They're alright, but they're nothing special and not very long at all. For years, I've been on the hunt for the holy grail mascara, and these three are the closest I've come. For me, all three of these serve a different purpose so I have them all to hand on my dressing table depending on the oc

casion

.
First up is the much hyped Benefit's They're Real. I've heard good and bad about this mascara, but for me - it's brilliant. I give credit to this mascara to be the only one I've found that has worked so well at opening up my eyes, that I actually stopped wearing eyeliner for a period of time (that's a big deal for me). Benefit's They're Real gives me super lengthened, seperated lashes. It defines them and gives an almost spider lash effect. I've discovered most of this is down to the unusual brush it has as I have tried it dunked in my cheapie Max Factor mascara and it works almost as well! My only con is, it does dry out quite quickly, and when you've paid a high end price for something, that's a bit of a pain.
Next up is
a recent discovery, and in the photo is just a tiddly little tester that I got at a fashion show I was working on. I'd not tried any Lancome products before, but I am seriously impresed with their Hypnose Drama mascara. This is the all in one - it lengthens, thickens, defines. And it holds a curl pretty well too. I might need to invest in the bigger tube as the small handled brush on this one is a bit fiddly!
And finally, YSL Shocking - again, much hyped but definitely worth it if you're looking for just that, shocking lashes. My sister, who prefers the natural look, didn't get on with this and I'll admit, it does give you some serious spider lashes, but I like it. It's thick and very carbon black which is how I like my mascara. I tend to turn to it for nights out a

s

it

i

s very dramatic. I also love the smell of it - it's meant to have lash conditioners in it too, which is always a bonus!
So that's my top 3 - I know they're all high end, but I think that if you can, mascara is worth investing in. I do have a Max Factor False Lash Effect for off days when I'm not going far, but these are my ultimate faves.
PS - My blog sale is still on, don't forget to look below!