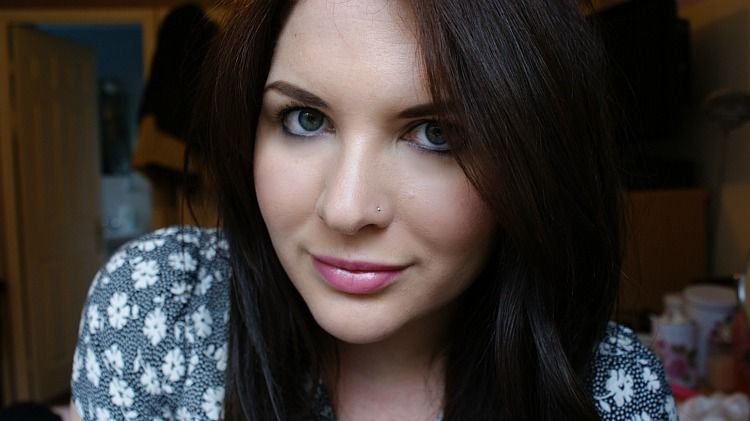 Nars Sheer Glow Foundation| Maybelline Dream Lumi Touch undereye concealer | Collection Lasting Perfection concealer | Collection Loose Powder | Estee Lauder Cream Blush in Coral | Avon Supershock Gel Liner in Black* | L'Oreal Telescopic Mascara | 17 Supershine Lipstick in Barely Blush | 17 Brow Pencil in Brown
What's that I hear you cry? My face? On my blog? Again? Blimey. This week really is a rare treat (read: I was looking alright this weekend so I thought I'd share it with you).
A little face of the day to show you the make up I've been wearing as an everyday look lately. I needed some new foundations for my make up kit, so I went with Nars Sheer Glow after hearing good things about it. Of course, I thought I'd try it out for longevity (ya know, research) first, and it is lovely. Such a beautiful, natural foundation - a little goes such a long way, and even though I'd say its medium coverage, it's not remotely heavy. It's love! Oh and for those who are thinking, Sheer Glow?! It's actually a really matte foundation...strange but t

rue.
Another item I was road testing was the Supershock liners from Avon - again, love. They're super soft and glide on easily, but once they're on, they're on. No budging - I'd been out all day before I took this snap, and had a nap in the car. Good eh?
And finally - I thought it was about time I got a new lipstick. It'd been, ya know, a week or so. I've decided I don't get on too well with bold lippies for everyday - I love how they look, but I get so worried its all round my face or I'll smudge it on my clothes. So I went for a gorgeous 'my lips but better' pink from 17, which was half price with a voucher I got from the clubcard kiosk in store. Super comfy to wear - 17 are definitely my fa

v

e drugstore lipstick brand. Worth trying out!
I'm just about to leave home to get my hair done, very excited to share that with you all when it's done, and yesterday I took my camera along with me to 'vlog' behind the scenes of an editorial I was shooting so hopefully that'll be up soon when I have some time to edit it! Hope you're having a fab Tuesday

.