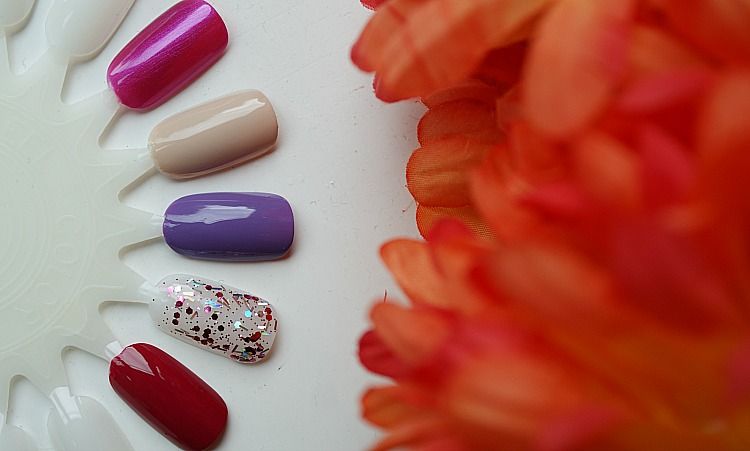 If you're not quite ready for winter to rear it's ugly head and are still maintaining that it is sandal weather, todays post might interest you. I'll admit I'm looking forward to autumn fashions and cosy nights in (Strictly's back...thats all I'm sayin'), but I'll give it to the summer lovers - I don't think I'm quite there yet. I can't quite ditch the pastel nails in favour of maroons and navys, so today I've swatched a few of my favourite transitional talon paints. Colours that fit either category, and at the same don't fit in anywhere else...
First choice for me was simple - LA Colors in Hot. Not a brand that gets a lot of hype and quite hard to stumble upon (but cheap as chips when you do), its bold, metallic and pretty glam.
If you're more of a sophisticated lady, you'll probably know the next offering by now. That's it, Barry M's Lychee. This is my 'short nail' colour - when my nails are looking a little on the trim side, this keeps them neat and chic. Great with a tan but equally sophis on a pale pallor.
Jacava London's Blueberry Muffin* is a shade I have trouble placing - not quite pastel enough for the real summery months but most definitely not your traditional winter shade, it's a toughie. What better place to pop it on than during the transitional months? One for Winter into Spring too, I'd say.
I've neglected my glitter polishes this summer - something about them just screams Christmas. But this little mixture from Barry M (Pink Sapphire to be precise) is pretty subtle and self sufficient. Layered over red for the festive season, it's capable of doing it's own thing during the in-between months.
And finally, a favourite I've spoken about before - Rimmel's Urban Purple is the winner for me, not only in the colour stakes but it has by far the best formula. Only one coat needed and super glossy. this stays put for well up to a week if applied well.
I'd say that's enough to choose from for the time being...
What's on your nails this month?